Established
1972
BASKETBALL WORLD DAY CAMPS
Our boys camp and girls camp at Suffield Academy
will be conducted the same week, July 25 - 29, 2022.

We will have separate leagues for boys and girls.
July 25 - 29, 2022

• Boys & Girls Ages 8 - 18 •
SUFFIELD ACADEMY
185 North Main Street (Route 75), Suffield, CT 06078
DAY CAMP APPLICATION
(PDF)
Print and complete DAY CAMP APPLICATION (PDF).

TWO PAYMENT OPTIONS

Mail completed application with check (full payment or deposit) to:
Basketball World, 955 Russell Ave, Suffield, CT 06078

Payment may be made with credit card using our secure shopping cart.



After providing credit card information via shopping cart,
please mail or email completed camp application (PDF or JPG) to:

Basketball World, 955 Russell Ave, Suffield, CT 06078






IMPORTANT MEDICAL INFORMATION



Each camper must provide a medical certificate prior to attending camp.
SAMPLE MEDICAL FORM
(PDF)
Campers that require medications (inhalers, EpiPens, meds, etc) must provide
documented parental and authorized prescriber's permission.
SAMPLE ADMINISTRATION OF MEDICATION FORM
(PDF)

Camps in Suffield, CT conducted at Suffield Academy's Tisch Field House.
Day Camp Ages: Ages 8 - 18.
Day Camp Cost: $350. Family rates and team rates available!
Day Camp Time: Monday through Friday, 9am - 4pm.
Special Note: Day Campers should bring a bag lunch. The camp will provide a drink for each camper.
Suggested Clothing: Basketball sneakers, socks, t-shirt, gym shorts. Swimsuit and towel.
Awards: Trophies are awarded in each league for the following: Free Throw, Shoot-out, Playmaker, Hustle, Defense, Rebounder, Most Improved, Playoff Champions, and MVP. These awards, plus the Outstanding Camper Award, are presented at our traditional award ceremony on the final day at 3pm. The Ceremony is a highlight of camp.
Why Basketball World is a special camp...

Personalized Instruction!

50 years experience conducting basketball camps!

Under the direction of NBA scouts.

Limited enrollment for personal interaction with coaches.

One staff member for every eight campers.

Individual instruction during daily teaching stations.

Campers coached by a high school coach or college player.

Campers compete against players their own age and ability.

Campers play at least one half of every game.

Campers receive a personal evaluation of their skills.

Campers learn the latest breakthrough techniques of goal setting, visualization, and positive self-talk which will enhance performance, confidence, and self esteem.
SAMPLE DAY CAMP SCHEDULE

9:00am
Attendance and Stretching
Noon
Lunch
9:05am
Ball Handling/Shooting Warm-up
1:00pm
Lecture
9:20am
Fundamental Skill Stations
1:30pm
"NCAA" League Games
- Ball Handling
2:05pm
"ABA" League Games
- Shooting
2:40pm
"NBA"/"WNBA" League Games
- Offensive Moves
3:15pm
Swim or Fun Contests/Relays
- Moves without the Ball
3:45pm
Wrap-up/Trivia
- Defense and Rebounding
4:00pm
Dismissal
- Team Defense

LEAGUES

"NCAA" = Grades 3rd - 6th

"ABA" = Grades 7th - 8th

"NBA"/"WNBA" = Grades 9th - 12th

10:00am
"NCAA" League Games
10:30am
"ABA" League Games
11:00am
"NBA"/"WNBA" League Games
11:30am
Swim or Shooting Contests
Parents are encouraged to attend camp at any time!
Campers receive a FREE BASKETBALL WORLD T-SHIRT!
FAMILY RATES & TEAM RATES available!
Limited enrollment. Register today!
E-mail BASKETBALL WORLD to be added to our mailing list or to have a day camp conducted at your site!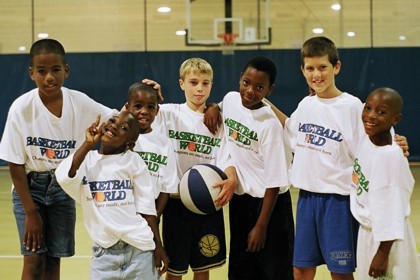 Future Stars!
860-668-7162 • 888-812-5452
© Copyright 2014, Basketball World, Inc. All rights reserved. BASKETBALL WORLD is a registered trademark. Any use of the name or logo is prohibited by law.
All photographs, graphics, web design, and text contained within this site are protected by the U.S. and international copyright laws.
No portion of basketballworld.com may be duplicated, redistributed or manipulated in any form.