Established
1972
THE MAN WHO HELPS THE GRIZZLIES TAKE THEIR BEST SHOT
By: Ron Higgins
Dr. Hal Wissel's first lesson of shooting a basketball is that you don't refer to him as a "shot doctor."

"A shot doctor means that your shot is sick," said Wissel, a Grizzlies assistant specializing in teaching shooting who was hired by Hubie Brown . "I'm more positive than that. Earl Watson (Grizzlies' point guard) calls me the 'shot nutritionist.'

" Whatever Wissel wants to call himself, it's clear he's had impact on several Grizzlies - Watson, Lorenzen Wright and Shane Battier - who've sought his advice on fine-tuning their shots.

His simple job description: Making the Griz a bunch of smoking guns.

"The first day he was here, I went to see what he was all about," Drew Gooden said. "I know my shot wasn't up to par. I knew I needed someone to look at my shot. Coach Wissel has given me a lot of confidence, and I think I'm shooting the ball better than in the past."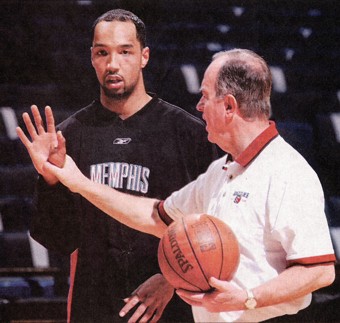 Grizzlies assistant coach Hal Wissel works with
Griz rookie Drew Gooden during a recent practice.
Wissel specializes in teaching proper shooting.
So what qualifies Wissel, 63, to be shooting coach? Isn't it all just about the basics - fingertips on the ball, wrist cocked, elbow in, full extension and follow through?

Not necessarily.

Through his 24 years as a successful college coach, including a NCAA Division 2 national championship at Florida Southern in 1981, Wissel came to a few conclusions about tinkering with someone's shot.

First and foremost, don't give a player too much information on what's wrong with his shot. The last thing a shooter needs is to run through a mental checklist of his shooting mechanics when he's lofting an open jumper.

"Shooting is about confidence and rhythm," Wissel said. "I can look at a player's body language when he shoots and know if he has confidence.

"And if a shooting rhythm slows down, it means they are thinking too much. You don't want paralysis by analysis."

A shooter needs an empty mind, save for what Wissel likes to call "key words."

"I like to give one word or two word reminders and I even let the players choose the words," said Wissel, who has written two basketball books, has a series of videos and conducts shooting camps worldwide. "If a player is short on his shot, it might be his legs. So I'll say to the player 'Legs.' "

Brown replaced Sidney Lowe after the Grizzlies started 0-8, and had to quickly put together a staff. He tracked down Wissel on his horse farm in Connecticut, just outside Hartford.

Brown knew when he hired Wissel, he was getting more than just someone who could hone a player's shot.

"I knew the guy from way back, I used to bring him in to coach shooting when I was coaching Atlanta and New York," Brown said. "If you listen to Hal, you will learn a lot in a hurry.

"The best thing about him is he has a marvelous way with teaching players. He's a real gentleman."

Wissel doesn't seek out players. He allows them to gravitate to him, knowing that many players have fragile egos that only allow them to ask for pointers privately.

Watch Wissel two hours before a game and he's all over the court counseling players on their shots.

He might be reminding Watson to correctly align the ball over his right thigh as he raises to shoot. He'll feed passes to rookie center Cezary Trybanski of Poland in the high post and emphasize holding the ball high in shooting position as he pivots to face the post.

Or he'll throw balls to Battier in the corner, noting the position on Battier's body where he catches the ball before shooting deep jumpers.

It might not seem like much, but something as simple as where a player catches the ball as he prepares for a shot can mean the difference between consistent and inconsistent shooting.

"Coach Wissel reminded me to hold the ball higher when I shoot," Wright said. "It's something that my dad (former college player and coach Herb Wright) taught me, but it's something you sometimes forget. I can't have my dad out here with me, and it's nice to have a shooting coach like Coach Wissel pick up on those things."
"Coach Wissel reminded me
to hold the ball higher when I
shoot. It's something that my
dad taught me, but it's something
you sometimes forget."

-Lorenzen Wright on the Grizzlies
shooting specialist
That's what Watson was thinking when he gravitated toward Wissel.

"I worked hard on my shot in the summer, but I've never had a shot coach in my life," said Watson, a point guard who came to the Griz in the off-season as a free agent from Seattle. "The only way you get better in this game is if you keep seeking knowledge. Some of the stuff Coach Wissel has shown me has put me over the top."

It's not just Watson. Wissel has worked with seven other NBA teams in past summers, and has helped players like budding Houston superstar Steve Francis.

"Steve didn't have a three-point shot when I started with him," Wissel said.

Francis, shooting a career-high 39.8 percent from three-point land this season, agreed.

"Hal Wissel helped me understand my own shooting technique," Francis said. "By coordinating my legs and shooting action, I was able to improve my rhythm and three-point range."
Originally published in The Commercial Appeal, February, 2003
860-668-7162 • 888-812-5452
© Copyright 2014, Basketball World, Inc. All rights reserved. BASKETBALL WORLD is a registered trademark. Any use of the name or logo is prohibited by law.
All photographs, graphics, web design, and text contained within this site are protected by the U.S. and international copyright laws.
No portion of basketballworld.com may be duplicated, redistributed or manipulated in any form.